I AM A PLAYWRIGHT; MY ARCHETYPE IS THE MAGICIAN.
There have been many defining events in my life, personally and artistically. First was the discovery that I am romantically and sexually attracted to men, not women. I know what it is like to be an outsider; that theme is prominent in my work. I also enjoy working with sexual themes and ideas. A second defining life event was the realization (at age 30) that I had a drinking problem. This insight led to a spiritual way of life that has been the foundation of much of what followed.
Thus, my artistic work is driven by a belief that positive change is possible, even likely, despite circumstances which can seem to threaten progress and movement.
I came by this last idea honestly, as a gay boy raised in Indiana in the 70's. When I realized I wanted to date men and not women (1979), there didn't appear to be much of a future for that idea in Indianapolis.
I moved to San Francisco and began my professional career writing scripts for corporate training programs. Much later (2001), I shifted to theatrical forms. I co-wrote the play Porn Yesterday (with my beloved collaborator Patricia Milton). Porn tells the story of a porno star who wants to change his life. It was produced in San Diego in 2003. Other productions followed.
A screwball comedy, Strange Bedfellows, came next, as did a murder mystery–It's Murder, Mary! (Patricia Milton was the co-author for these two plays as well.) We also collaborated, along with composer Caroline Altman, on an as-yet-unproduced musical, Not Without Our Women. It is the story of how Wyoming became the first state in America to allow women to vote and hold public office.
Eventually, I began to write plays on my own. I joined a Bay Area company (PlayGround) which specializes in ten-minute plays. My topics included gay penguins trying to get onto Noah's Ark and an ill-fated romance between the action figure G.I. Joe and Barbie's long-time boyfriend Ken.
The New Works of Merit contest selected my play Another Man's Slingbacks as its winner in 2009. The Second Weekend in September premiered in 2010 in San Jose, California. Numerous productions of these plays and of various of my short form plays have taken place across the country.
I completed an MFA in playwriting at Ohio University (Athens, Ohio) in 2012 where I was mentored by celebrated playwright Charles Smith. I then returned to Indianapolis. I have been successfully teaching and developing new playwrights at the Indiana Writers Center since that time. I have produced several student showcases of short plays at Indy Fringe in Indianapolis, and built a playwriting curriculum for developing playwrights at the Writer's Center.
Then, in 2019, I began a new adventure when I moved to Columbia, Missouri, and began work on my PhD in Theatre and Performance Studies at the University of Missouri. More information about this new direction can be found on my Other Endeavors page.
I consider my mission in life to be as happy as possible and to enjoy myself at all times, if I can. I believe that a lot of good can flow out of maintaining positive energy in the moment. And if I want to make the world a better place to live in (which I do), it is my further mission as a playwright and teacher of playwriting to keep writing better plays and to encourage my students to find their voice and write wonderful plays of their own.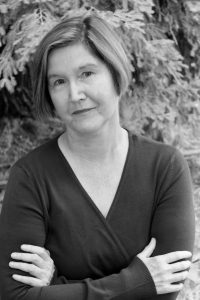 Meet Patricia Milton | Collaborator
"All playwrights should be dead for three hundred years." -Joseph L. Mankiewicz