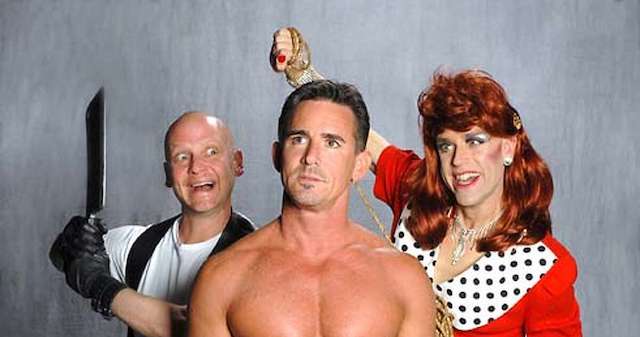 IT'S MURDER, MARY!
Written in collaboration with Patricia Milton
Agatha Christie meets Paul Rudnick in this old dark house murder mystery. A group of disparate men, all gay, are invited under mysterious circumstances to a country estate. Each one has a secret. When the invitees begin to die one by one, the dwindling number of survivors must determine who among their numbers is responsible for the mayhem. The youngest and the oldest guests must overcome their natural mistrust of each other to survive or else: It's Murder, Mary!
Hilarious, high-spirited fun for everyone. . . Irresistible! The Playwrights Andrew Black and Patricia Milton bring back the lost art of Story Telling. Can't wait for their next one.  FOUR GLASSES OF CHAMPAGNE!!!! (highest rating)
Lee Hartgrave, BeyondChron
Bloody Good MARY: Intentional camp is tough to pull off. But the minor genius of this show—commissioned by NCTC and written by Andrew Black and Patricia Milton—is that it's smart enough to know exactly how stupid it is.
S.F. Gay Examiner
Killer World Premiere at NCTC: Gay who-dunnit charms the pants off during a dark and stormy night!
Seán Martinfield, S.F. Sentinel
Co-authors Andrew Black and Patricia Milton put the camp into their whodunnit set on the Russian River.
SF Bay Guardian
PRODUCTIONS
Stage Q Productions
June 2011: Madison, WI
---
Emerald Theatre Center
August 2009: Memphis, TN
---
New Conservatory Theatre
May-July 2008: San Francisco, CA