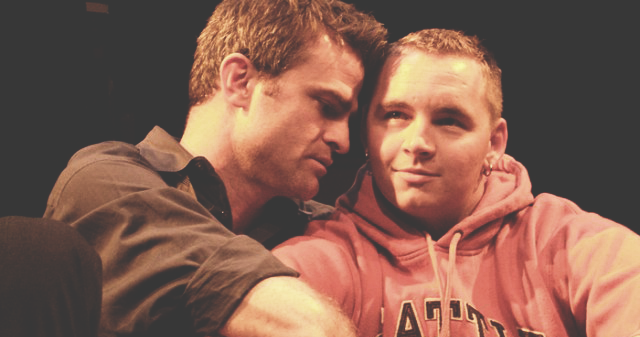 SECOND WEEKEND IN SEPTEMBER
David explores the many facets of his identity as a gay man, while his married lover Michael remains in the closet. The similarities and differences in their life experiences come to light in the Seattle hotel room where they meet every second weekend in September over a twenty-five year period. The changes in the gay community during a pivotal period of its cultural history are also revealed.
Michael (Christopher P. Kelly) and David (Bradly Mena) are so much more than gay versions of George and Doris, their heterosexual counterparts. For starters, they are more interesting, both as individuals and as a couple, and the dialogue that Black has put in their mouths is uniformly sharp, whether the scene is poignant or laugh-out-loud hilarious.
-Ben Marks, SanJose.com
Written by Bay Area playwright Andrew Black, the dialog ebbs and flows naturally. Before you realize it, you're emotionally committed, eagerly anticipating words and actions that follow.
-Clinton Stark, Stark Insider
PRODUCTIONS
Dangerous Theater Company
September 2010: Denver, CO
---
City Lights Theatre
May 2010: San Jose,CA
STAGED READINGS
City Lights Theatre
August 2008: San Jose, CA
AWARDS
Beverly Hills Theatre Guild
2009: Semi-Finalist
---
Julie Harris Playwright Aware Competition
Winner, New Play Development Series